Sourced from: TheLandCle.org
Article originally published by: MIESHA HEADEN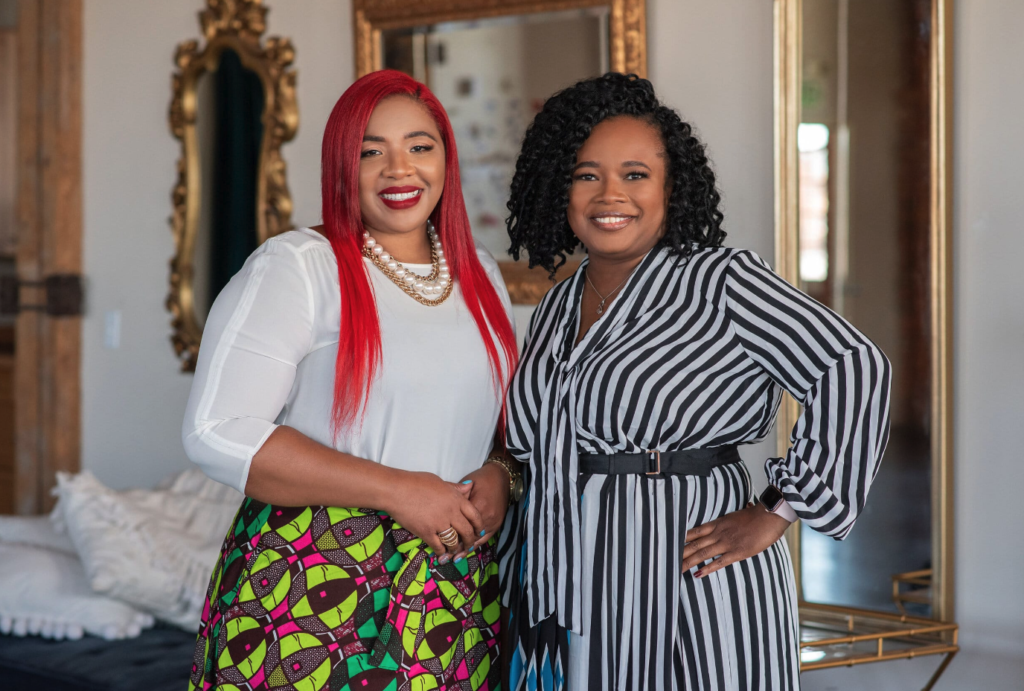 Da'na Langford (left) and Tenisha Gaines (right) Founders of Village of Healing. Photo By Miesha Headen
Tenisha Gaines and Da'na Langford founded Village of Healing, a nonprofit pledged to improving birth outcomes for Black women, to provide a remedy for what they saw as ineffective and incomplete treatment during their careers as healthcare professionals.
Gaines was a medical care provider at University Hospitals for 20 years, most recently as the Director of University Hospitals' Centering Pregnancy program for low and moderate risk pregnant women who live near Midtown Cleveland. She recently received her doula training from Birthing Beautiful Communities. Da'na Langford is a certified midwife.
"What we have learned is that infant mortality and maternal mortality are Black problems," said Langford. "Infant mortality and maternal mortality are not citywide problems, not countrywide problems. These are Black problems. If you remove black women and black babies from the equation, this would not even be a crisis."
Gaines felt confined by the medical establishment. "I felt like I couldn't say what I needed to say to advocate for my patients without repercussions," said Gaines. "I felt like I wasn't doing enough for my community, because I had that barrier of working for a large, predominately white institution."
In fall of 2021, Village of Healing will open a women's healthcare clinic for obstetric, gynecological, and infant care in Euclid. The clinic will have 2,000 square feet with four examination rooms. Tenisha and Da'na will be the first employees but hope to hire three additional people before the end of 2021.
Gaines and Langford selected Euclid on purpose. With a Black population of 60%, Euclid has the fourth highest infant mortality rate of the 59 cities in Cuyahoga County, according to the most recent Cuyahoga County Maternal and Child Health Report. (The Cuyahoga County Health Department has not updated the report since 2018 with 2016 data.)
Da'na Langford Founder of Village of Healing. Photo By Miesha Headen
Village of Healing hopes to replicate the success of the 44128 Project in Euclid. At 20 deaths per 1,000 births, Warrensville Heights — with a Black population of 93% — had the highest infant mortality rate of any city in Cuyahoga County.
In 2017, Marie Jones, Director of Community Health Initiative at the Neighborhood Leadership Institute, designed and spearheaded the 44128 Program, a black women's maternal health initiative focused solely on Warrensville Heights' and Lee-Harvard's zip code. After the initiative was launched, Warrensville's infant mortality rate dropped to zero in less than two years.
Midwives and Doulas Reduce Racial Disparities
The Village of Healing clinic will be staffed solely with doulas, midwives, and nurse practitioners. No doctors will be used, except a collaborating physician as required by law. Policy experts have recently identified doulas and midwives as part of the solution to lowering maternal morbidity and infant mortality among Black women.
Tenisha Gaines Founders of Village of Healing. Photo By Miesha Headen
According to Tara Britton at The Center for Community Solutions, "Midwives also play an important role in deinstitutionalizing childbirth and bringing community-based support to hospital-based deliveries, which is key to reducing disparities resulting from health care institutions that often provide care influenced by bias and racism."
Doulas and midwives are advocates for both the mother and the child, often acting as an advocate or medical translator for the patient. They engage the patient prior to birth, stay with the patient during delivery with the attending physician, and, in the case of doulas, assist the client for two years following delivery.
Coordinating and keeping care affordable
Village of Healing plans to coordinate closely with Birthing Beautiful Communities, which received $1 million from the Gund Foundation to open a stand-alone, comprehensive birthing center in Hough. In addition, many of the midwives will share staffing positions between the two organizations to ensure continuity of care.
Village of Healing will refer low-to-moderate risk patients to Birthing Beautiful Communities for delivery. High-risk patients will be referred to doctors at MetroHealth, University Hospitals, or Cleveland Clinic who — as Gaines says — "we trust and are comfortable with."
To address the needs of uninsured or underinsured patients, Village of Healing will create a membership program in which the patient joins the organization and pays a flat monthly fee for women's health services.
Village of Healing currently operates the Mom to Mom Mentorship Program which provides peer support groups, education on pregnancy and postpartum depression (PPD), and related mood-anxiety disorders. They tailored the statewide program (known as the Perinatal Outreach and Encouragement Program, or POEM) to empathize with Black women.
Miesha Headen is a freelance journalist and Executive Director of AACE, a non profit transportation company. She was a recipient of the CLE AKR Informed Communities grant to write about Black women's maternal health through collaborative journalism.